CH DELAROCHE FJOTUNN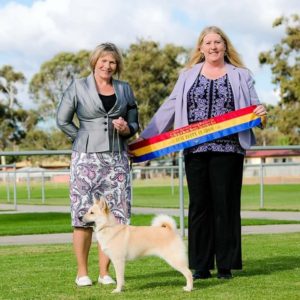 Yogi-Girl
Ch Kimura's Viking (Imp Nor) x No-Uch Rennedal's Brynhild Skjodmoy
This young lady has all of the very best traits, qualities and attributes of her parents, and then a WHOLE LOT MORE! Line bred on her Grandfather, the absolutely stunning Kimura's Peer Gynt of Norway and as you can see this combination has produced a ripper first litter which will be hard to follow.
Yogi is shinning in the show ring, she is a joy to live with. Always affectionate, happy and willing to please. Like her sister, she is well adjusted, outgoing but has a quieter nature than her sibling with an extremely sweet expression which can mislead you into believing she can do no wrong. She is the first  in for a cuddle and the last to tire of them. She eagerly greets us at the gate when we return home from work and she loves racing the block with her dad and siblings.
Yogi was the first puppy for our first Norwegian Buhund litter to be awarded her Australian Championship title. At barely eight and a half (8.5) months of age. She did it in style too with a Best of Breed and BEST PUPPY IN SHOW at Dublin Kennel Club on 12 May 2018 under judge Mrs Elaine Knox (NSW) for her in Group win and Mrs Sharon Taylor (QLD) for in show.
Along the way she has amassed
8 x Best Baby Puppy in Group
2 x Best Minor Puppy in Group
6 x Best Puppy in Group
1 x 1st Best Puppy in Sweepstakes
4 x Best Puppy In Show
Andrew and I are so very proud of our home bred girl